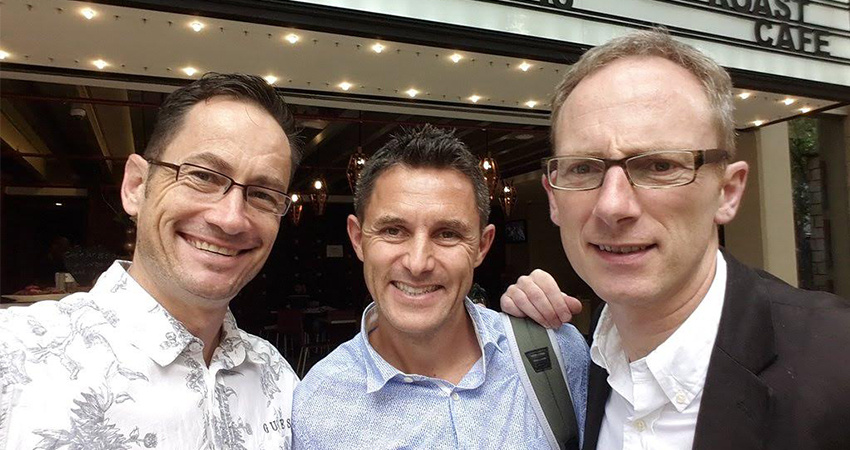 Albert Einstein once said 'Life is like a bicycle – to keep your balance you must keep moving'. Well Steve Saunders CEO of SS Coaching, South Africa and friend and colleague of the Optima-life team is definitely a man on the move …in more ways than one.
At Steve's invitation, Simon Shepard CEO of Optima-life recently swapped the chilly grey of London for the sunshine of Cape Town and Johannesburg to deliver a number of talks to invited audiences; all with a common interest in people, wellbeing and performance.
Steve has a background steeped in elite sport and cycling in particular and he, like Simon, recognises how lessons from sport can have a key role to play in business and everyday life. There isn't one single factor in isolation that leads to sustained success in sport, but a combination of elements that create a winning culture. So too when looking at business and people, it is only through taking a holistic approach and creating a positive culture that real behaviour change can take place.
Delegate Dr Georgie Torres, said: "The workshop I attended was thought-provoking and very informative. In my opinion, it clearly illustrated how lifestyle and health should be viewed in a holistic manner and I believe it portrayed the only way corporate health should be addressed. Thoroughly enjoyed the presentation."
Firstbeat technology is all about knowing. It removes the guessing and gives individuals a very clear picture of what is going on in their lives and how their bodies are coping. Simon's discussion on the use of the Firstbeat Bodyguard and the influence it is having, clearly impacted on delegate Michelle Ross, who said:
"Firstbeat is a highly informative, detailed approach to an individual's overall health and wellness. The ability to measure the physiological response to daily activities with the Bodyguard monitor, and then use the data collected to create easy to interpret graphics is highly beneficial. The visual aspect of the data can be used to convey to clients how they are coping physiologically, in all aspects of their lives. I found the large emphasis placed on adequate recovery interesting and refreshing, as many a health practitioner, athlete and even the highly powered and hence, highly stressed businessman neglect the necessity to recover properly in order to achieve one's full potential."
The talks, very fittingly, were supported by ICT solutions company, Dimension Data. They are the sponsors of the World Tour Cycling Team, Team Dimension Data for Qhubeka which is led by the iconic and inspirational team principal, Doug Ryder and now also includes British cyclist Mark Cavendish. 'For Qhubeka' is the charity part of the sponsorship helping to develop young cycling talent and providing bikes for young children to get to school and to help in their community. It is also, by its very nature, helping young people on a pathway to a healthier lifestyle.
While in South Africa Simon also managed to catch up with Zoe Loeve and her new venture 'Fit for Purpose'. Zoe has a background in training, business and HR; a real passion for helping businesses see the importance of investing in their people and an expert knowledge in the delivery of Firstbeat's Lifestyle Assessment.
The trip was not without some interesting asides, giving real substance to that oft-used phrase 'heart pounding' moments. Take a look at Simon's Firstbeat Bodyguard readings as the plane hit an electrical storm en route to Cape Town.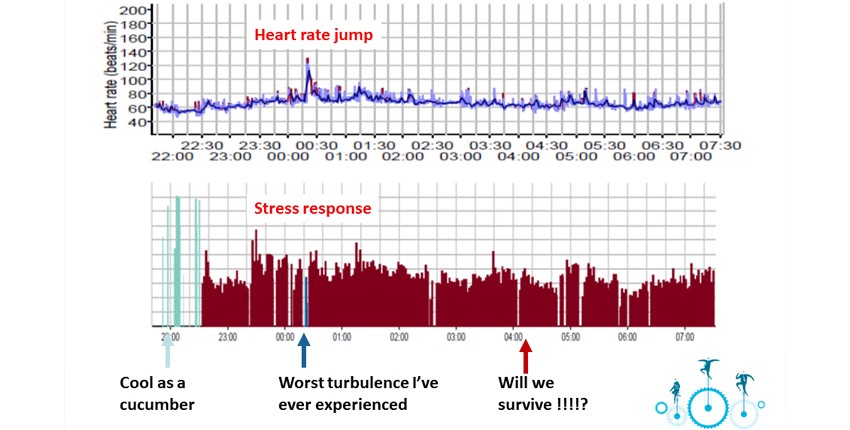 And as for the ceiling falling down and an 'Only Fools and Horses' Chandelier' moment at his hotel, we will leave that for another day.
…So as you ponder on what today has in store, take heed of Albert Einstein's wise words, take a leaf out of Steve Saunder's book  and…… get on that bike, (or just get those walking shoes on), get moving and get some more balance into your life.
https://optima-life.com/wp-content/uploads/2016/03/Steve-Saunders-Doug-Ryder-Simon-Shepard.jpg
450
850
Optima-life
https://optima-life.com/wp-content/uploads/2015/03/Optima-Life-White-129x70.png
Optima-life
2016-03-04 10:27:20
2016-03-04 10:27:38
Time to Get on Your Bike