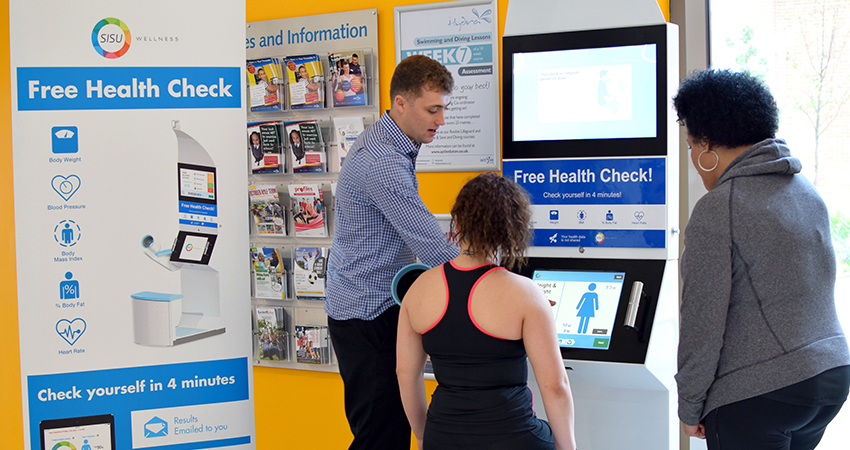 I can afford to spend 4 minutes on my health!
A recent event at the superb Inspire: Luton Sports Village took us all a little by surprise (but in a good way!) and showed us that people really do want an overview of their health (men and women), as long as they can get the information in a convenient, fast, efficient and informative way. 4 minutes on a SiSU Health Station proved to be the magic combination.
The team, working with our technology partner SiSU and Active Luton, the charitable trust which is responsible not just for running sport in Luton, but also has a clear focus on the health and wellbeing of the Luton population, installed a SiSU Health Station at the Inspire centre over an 8 day period.
The centre is an incredibly vibrant place frequented by a vast range of different age groups. It is used by all abilities, able-bodied and disabled, from leisure participants through to elite athletes and has a broad mix of ethnicities, male and female.  It also has a great café which makes it a very sociable place to congregate too!
Our latest new graduate recruit, Elliott, orchestrated the event and took up residency at the centre to man the SiSU Health station during key periods of the day. Now whether it was his youthful good looks and charm or the fascination of seeing a space-age piece of technology in the foyer of the centre, the queues of people waiting to be tested were often 5 or 6 deep.
The test takes just 4 minutes to complete and provides an instant report on blood pressure, resting heart rate, % body fat and weight, height and body mass index. At risk scores are identified if scores are out of the norm.  Users who enter their email address receive an updated confidential report with an overall health score, demographic comparison and a heart age. Recommendations are made and users can take the process forward in order to track their results.
An anonymised group report is also produced as part of the process. Active Luton has given us permission to reveal some top line figures from the event. In just 8 days, 796 people undertook the test. 56% were male; quite a high figure for a group that is often thought to be shy and retiring about anything health related. 16% of this group exhibited 3+ high 'at risk' health indicators, as compared to just 3% of females. Health risks included having a BP 140/90+, a BMI of 25 or over and a heart rate of 100+. A total of 21% of the total group exhibited high blood pressure and received a follow-up notification to visit their GP.
Helen Barnett, Chief Executive of Active Luton said:
'The SiSU Health Station proved a huge attraction at Inspire and I was delighted that so many people were interested in finding out about their own health. I think the fact that it is so easy and quick to use and gives immediate results, makes it very appealing. People engaging with their own health and being advised of the need to take steps, in certain cases,  to remedy health risks, in just 4 minutes has to be a really positive step forward.'
What was fascinating was the range of people taking the test. Staff at the centre were also totally engaged by the Health Station and not just to whet their own competitive appetites.
Here's just a few of the comments fed back to Elliott from some of the participants:
Jim, 77 years of age: 'A friend told me to come down and have a go, it's great and easy even for me'
Ray: 'Think it would be beneficial for secondary schools, good for education and get them thinking about their health from a young age'.
Mursalin, a 36 year old gym instructor: 'It's been much easier to carry out health assessments, members find it much more interesting and the health station provides more motivation to improve as they have actual results they can read on their email. I really like the email and connectivity as it is recording all their results and improvements'.
Abdul: It's easy to forget and neglect your health, I have diabetes and high blood pressure in the family and so I'm always aware of my health and my weight. This station is very relevant and quick to use.
Martha: 'Was pretty cool, easy and quick to do'
Rose-Marrie: 'Health is the most important thing, more than all the money in the world. It makes sense to have this in a gym, it's very convenient. I have learnt about myself, I needed to check my blood pressure.'
Joe: 'Very useful, I would like to see one of these in my GP surgery'
If this has hit a chord with you and you would like to know more about the SiSU Health Station for your organisation, call the Optima-life team on 0207 135 2424
https://optima-life.com/wp-content/uploads/2015/10/Active_Luton_SiSU_850x450.jpg
450
850
Optima-life
https://optima-life.com/wp-content/uploads/2015/03/Optima-Life-White-129x70.png
Optima-life
2015-10-07 15:32:27
2015-10-09 18:00:08
I can afford to spend 4 minutes on my health!