Donating time and funds to Rennie Grove Hospice Care
Optima-life CEO Simon Shepard, has donated £1,000 to Rennie Grove Hospice Care. The funds were raised during a promotional launch event for Simon's first book.
Using expertise obtained throughout his career which spans physiotherapy, sport and business, Simon has written The Battle for Balance to help individuals take ownership of the way they interact with multiple aspects of life – at work, at home and in the community. The book deals with key issues such as stress, motivation and resilience and encourages people to consider how they are living in today's world.
Rennie Grove Hospice Care is a charity providing specialist care and support for adults and children with a life-limiting illness in Bucks and west Herts. As a local businessman, Simon is a keen supporter of the Hospice and the funds raised from the book promotion will be used towards funding hospice's at home care for adults and children, day and night, so that they can remain at home, surrounded by family, friends and the things that matter to them most right until the end.
In addition to the donation, Simon also ran a free workshop for the team at Rennie Grove. The workshop entitled Reflect, Realign, Reboot is part of a 'caring for the carers' programme that Optima-life has been delivering to healthcare organisations over the past decade and is particularly relevant with the events of the past year. The session focused on how staff at Rennie Grove could deal with the demands of day to day life and the ever-increasing rate of change that both people and organisations have had to contend with. From stress, sleep, resilience, relationships, energy and exercise, the team were encouraged to create their personalised plan so they could be effective and purposeful, both at work and at home.
Amy Chambers, head of fundraising development at Rennie Grove Hospice, said:
"As a team we rarely take a moment to reflect in amongst a busy day. Simon did just that and provided us with an opportunity to access how we are looking after ourselves and each other. We knew the health and wellbeing of our employees is important but this session allowed us to reflect on why it is important to us at an individual level. Delivered with a sense of realism, everyone took away practical tools which will help us be not perfect, but a bit better a bit more often. To sum it up, it was insightful, thought provoking, backed up with science and Simon even throws in a bit of humour! Highly recommend."
Simon Shepard, author of The Battle for Balance and CEO of Optima-life, said:
"I am delighted to be able to help Rennie Grove Hospice. As a local businessman, I am very pleased to be able to support their invaluable work and the brilliant team, not only with the proceeds of my book event, but also with this workshop. Carers such as those at Rennie Grove play such a vital role and it's so important that we look after them just as well as they look after their patients."
The Battle for Balance is out now, available from Amazon.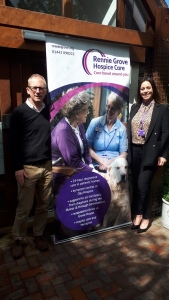 Simon making the donation from his book launch proceeds to Nicola Aquila, senior corporate partnerships executive at Rennie Grove Hospice.
https://optima-life.com/wp-content/uploads/2021/05/Rennie-Grove-Hospice-team-shot-May-2021-scaled.jpg
1422
2560
Optima-life
https://optima-life.com/wp-content/uploads/2015/03/Optima-Life-White-129x70.png
Optima-life
2021-05-25 10:34:47
2021-05-25 10:34:47
Donating time and funds to Rennie Grove Hospice Care